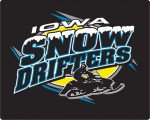 Welcome to the Iowa Snowdrifters website! Our club was started in the early 70's by dedicated snowmobile enthusiasts. We feel snowmobiling is an excellent family activity and we're committed to promoting safe snowmobiling.  The trails are maintained by dedicated volunteers who could always use more help.  Contact the iowasnowdrifters@gmail.com to see how you can help.
We meet the second Thursday of every month, year round, and currently have around 100 members. Club members have developed over 220 miles of trails within our system which connect the towns of Ely, Shueyville, Western, Walford, Fairfax, Norway, Blairstown, Solon, Sutliff, North Liberty, Tiffin, Cosgrove, Homestead, Amana, Windham and Kalona.
The majority of the trails are in Johnson County but we also cover parts of Linn, Iowa, Benton and Washington counties. You'll see lots of scenery on our system. From wooded trails that are tight and twisty to open fields with fence row drifts. Our trails also go through Lake Macbride State Park and to the Coralville Reservoir.
With a long list of sponsoring businesses you're never very far from food or fuel. Our system connects to the Sledheads trails to the south, and the Winter Warriors trails to the east, resulting in many hundreds of miles of marked trails to enjoy. Come have some fun.
To become a member, go to our Join the Club page, fill out the membership form and send it to the mailing address below. Email iowasnowdrifters@gmail.com with questions.
If you do not want to become a member but would like to support the continuation of snowmobile trails in Iowa, select the Donate button below.
Mailing address:
Snowdrifters Inc.
PO Box 5735
Coralville, IA  52241
Thanks for visiting.